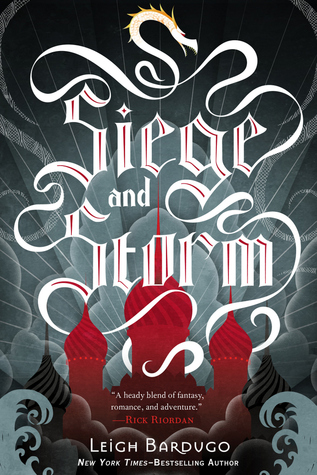 I always feel worried about the second book in a series because they are not normally as great as the first. Sometimes they turn into a kind of filler book, Seige and Storm was not bad at all.
I found this book darker than the first book and I actually believed in the plot a lot more than I did in the first book. Its tense and it feels like I went pages and pages without taking a single breath. There was very little time to spend relaxing into the story we got stuck in almost immediately and that's just the way I like it.
I want to talk about the Darkling for just a second. He is sooo evil but why cant I hate him? In this book the darkling has amazing new skills but we didn't get to see him much in this book. The Darkling was the nice sort of evil in the first book where I kind of thought that he could be the good kind of bad and maybe Alina could still get it on with our Darkling but this book he shows us whose boss. I cant figure out if I am supposed to love him or not but I know I am supposed to hate him which makes me like him so much more.
I kind of want Mal to grow a pair and show Alina how he feels. Who cares that she is Grisha and he is not? I do like the new bad ass version of Mal. He is way hotter when he is getting into fights. He should be supporting Alina while she tries to save the who frickin world not causing even more drama.
Alina has managed to transform from a fragile girl to a strong woman who can control armys and save the world. I like the changes. The struggles that she has emotionally with Mal are so realistic that I found myself siding with her when Mal was being an idiot.
I cant really say much more without spoiling it so I will leave it there.