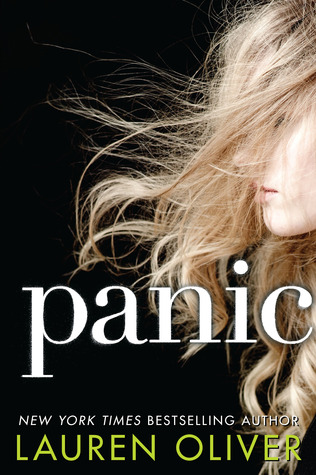 I have had this book sat on my self for about three months and I put it off and put it off until I finally didn't put it off any longer. I thought it was going to be rubbish, there was something about the cover and the blurb that didn't get me excited but then I opened it up and realised I am an idiot.
Carp is this really boring town with nothing to do so every summer the graduates from the school enter Panic. Anybody who is involved has the chance to win a very large sum of money if they win the terrifying competition. Our main girl Heather enters on a sort of whim with her best friend Nat and things just go crazy from there.
Its not very often that you get a stand alone book in the YA category anyway so its already winning.
The game Panic has killed contestants before so it is scary when the two girls enter and risk their lives for the chance to win some money but its not just about the money for Heather. Its a chance at a new life away from her horrid mother and a way to protect her little sister from the terrors that wait for her in the trailer that they call home.
The relationships in this book are believable as are the Characters./
Heather is clearly not the coolest girl in school, she is tall and awkward but I like that she isn't you typical lead girl. She was not going to enter the competition but saw her ex boyfriend kissing another girl and well that was it, she jumped of a cliff into the sea and entered the game.
Some of the challenges were inventive and some of them were not so much but they were equally as terrifying. I found the plot thrilling and I couldn't put this book down i think I read it in two sittings which is unusual for me.
100% one of my favourite books this year!!