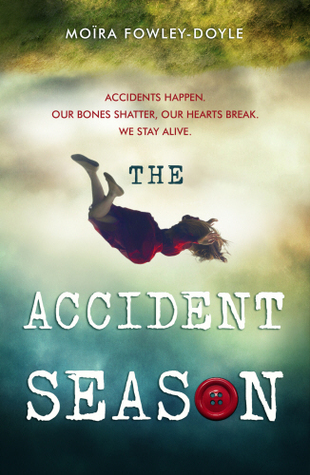 Cara, Alice, Sam and their mum have lots of accidents once a year during accident season. Cara doesn't know why but once a year she brakes bones and sprains ankles.
This year her best friend reads her tarot cards and they say it is going to be the worst year yet.
This year is the year Cara begins to figure everything out. The plot is haunting and captivating. I read this story in one sitting, I was completely hooked on this story from the get go. The love story in this is a little odd and I don't know how I feel about Cara and Sam getting together but their feelings for one another feel completely genuine. They are not actual siblings but something about their relationship feels a bit taboo. Non the less it was still quite romantic and sweet.
The story has extremely sad parts and other bits that are completely adorable and magical.
There are some serious issues that are dealt with in this book and they are dealt with very well. they are not brushed over or dismissed because they are too difficult.
It was a quick easy and captivating read, I really enjoyed this book. The plot was strange and magical but not too weird that you don't understand what is going on. Moira i testing the boundaries within young adult.