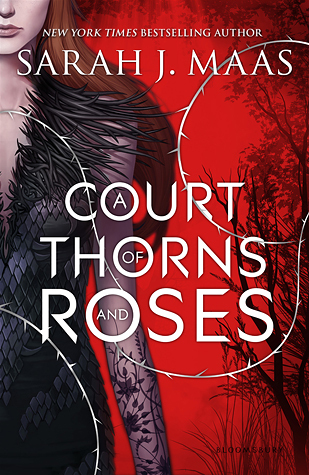 When nineteen-year-old huntress Feyre kills a wolf in the woods, a beast-like creature arrives to demand retribution for it. Dragged to a treacherous magical land she only knows about from legends, Feyre discovers that her captor is not an animal, but Tamlin—one of the lethal, immortal faeries who once ruled their world.
As she dwells on his estate, her feelings for Tamlin transform from icy hostility into a fiery passion that burns through every lie and warning she's been told about the beautiful, dangerous world of the Fae. But an ancient, wicked shadow grows over the faerie lands, and Feyre must find a way to stop it... or doom Tamlin—and his world—forever.
Perfect for fans of Kristin Cashore and George R. R. Martin, this first book in a sexy and action-packed new series is i
mpossible to put down
I picked this up because I heard that it was a beauty and the beast retelling and I love a good retelling but this was so much more than that. It wasn't really YA but its also not New Adult either.
Tamlin was a brilliant main man, he was strange and quirky until you began to understand what was going on under the crazy masks and the bad attitude. He is not really a beast in the true sense of the word. He basically turns into a massive wolf like creature but the majority of the time he is in man form but I think the point is that he is cursed and also the enemy. he must make Feyre love him even though he is Fae.
The world was intricate and difficult to understand at first as humans are only allowed to reside in certain areas and the rest is kept for the faeries. The humans are either very rich or very poor there is little in between. Feyre was once rich but her father lost his money leaving them with nothing so that is why Feyre began hunting and a good little hunter she is too. Chuft with herself at the beginning of the story because she killed a doe for food and a wolf for its skin but thats kind of how the real story begins.
The Fae are mostly wicked and cruel and come in many different forms as we discover in the story but Tamlin is a High Fae so one of the most important.
The whole plot is focused on the blossoming romance between Tamlin and Feyre and it does seem to blossom for a time. Its nice to have the world building and the character building intertwine in such a compelling way.
My favourite parts of the book were the imaginative ways the Queen lady thought up to challenge Feyre. I think it takes guts to have a heroine treated badly in a book without annoying the readers. There is noway that Feyre would that easily shoot Tamlin though.
I thought the ending was wonderful, I would have preferred something a little different but it didn't really matter other than preference.
I could't have guessed what was coming next in this story which is great for a retelling of another story. I would 100% recommend this book.